WHAT IS AUXETICS AND HOW DOES IT WORK?
AUXETIC PRINCIPLE: STRETCH A BUNGEE CORD, AND IT GETS THINNER… BUT WRAP A STRING AROUND IT, AND IT EXPANDS WHEN STRETCHED. WEAVING WRAPPED FIBERS WITH COMPOSITES CREATES FABRIC THAT THICKENS AND STRENGTHENS WHEN UNDER STRESS.
AUXETICS CAN BE ILLUSTRATED WITH AN INELASTIC STRING WOUND AROUND AN ELASTIC CORD. WHEN THE ENDS OF THE STRUCTURE ARE PULLED APART, THE INELASTIC STRING STRAIGHTENS WHILE THE ELASTIC CORD STRETCHES AND WINDS AROUND IT, INCREASING THE STRUCTURE'S EFFECTIVE VOLUME, WHICH CAUSES A NEGATIVE POISSON'S RATIO.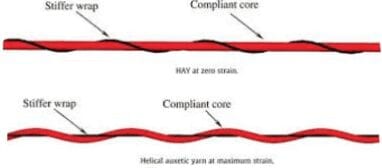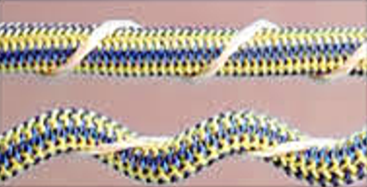 AUXETIC YARNS ARE CHARACTERIZED BY THEIR NEGATIVE POISSON'S RATIO; UNLIKE CONVENTIONAL MATERIALS, WHEN STRETCHED, AUXETIC MATERIALS BECOME THICKER IN THE DIRECTION PERPENDICULAR TO THE STRAIN.
AUXETIC YARNS, WHEN COMBINED WITH OTHER YARNS AND FIBERS, CAN BE TAILORED TO PROVIDE HIGH-STRENGTH, ENERGY-ABSORBING, SPECIAL-PURPOSE PRODUCTS AND FABRICS.
AT THE HEART OF OUR TECHNOLOGY IS OUR HELICALLY WRAPPED AUXETIC YARN. OUR YARN PROVIDES THE STRUCTURAL BASE IN ALL OF OUR FABRICS TO BE ABLE TO ACHIEVE THE DESIGNED GOAL. OUR YARN IS COMPRISED OF TWO COMPONENTS:


UNDER TENSION, THE WRAP TENDS TO STRAIGHTEN, CAUSING THE CORE TO DISPLACE LATERALLY IN A HELICAL MANNER. THIS CAUSES A NET INCREASE IN THE EFFECTIVE DIAMETER OF THE COMPOSITE YARN AND REFLECTS A NEGATIVE POISSON'S RATIO.
THE YARN IS LOADED BY THE PROJECTILE STRETCH AND ABSORBS THE STRESS, WHICH IS TRANSMITTED THROUGHOUT THE AXIS OF THE YARN AND THROUGHOUT THE FABRIC. THE AUXETIC EFFECT OF THE YARNS EFFECTIVELY INCREASES ITS TENSILE STRENGTH AS THE WRAP REINFORCES THE ELASTOMERIC CORE.
IN SIMPLE TERMS, WHEN OUR FABRICS ARE STRESSED OR ARE LOADED, THEY FLEX, AND WHEN THEY FLEX, UNLIKE MOST FABRICS THAT GET THINNER AND WEAKER, OURS GET THICKER AND STRONGER.
NON-AUXETIC YARN BEHAVIOR


OUR TECHNOLOGY IS NOT LIMITED TO ANY MATERIAL OR GEOMETRY.
WE CONTINUE TO DEVELOP APPLICATIONS FOR OUR CUSTOMERS.
WOUND CARE, COMPRESSION GARMENTS, BED LINENS, SMART BANDAGES
HIGH-VALUE EQUIPMENT PROTECTION, INDUSTRIAL SAFETY SOLUTIONS, CONSTRUCTION BLAST MITIGATION, FILTERS, PROTECTIVE COVERS WITH HIGH ABRASION RESISTANCE, OFFSHORE INDUSTRIAL USES
PROTECTIVE WINDOW/DOOR CURTAINS, PROTECTIVE TRASH CAN SLEEVES
TEST BAY CONTAINMENT, HIGH-PRESSURE RELEASE CONTAINMENT, LITHIUM BATTERY THERMAL RUNAWAY CONTAINMENT, LIGHTWEIGHT ROTARY WING PROTECTION
BLAST/FRAG PROTECTION AND THERMAL RADIATION MASKING, TENT MATERIALS
PERIMETER FENCING, IED CONTAINMENT
LONG-WEAR FABRICS, SMART FABRICS, SHOE FABRIC​
TEXTILE SAFETY CURTAINS, TEXTILE SAFETY, FIRE CURTAINS, FIREPROOFING, HIGH-HEAT SOLUTIONS, INDUSTRIAL SAFETY SOLUTIONS, SAFETY PERFORMANCE SOLUTIONS, GLOBAL SAFETY SOLUTIONS
JOURNAL OF APPLIED PHYSICS